Strategic Planning in Action
Sandra Bibb • College of Health Professions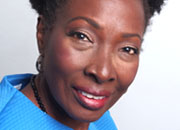 Sandra Bibb, dean and professor from WSU's College of Health Professions, says CHP is implementing its strategic plan by addressing three primary goals with strategies, targets and metrics that tie back directly to WSU's seven strategic goals. The three CHP goals are:
Enhance academic quality of academic programs
Expand academic programs and increase enrollment
Address resource concerns.
The goals, strategies, metrics, and targets are also tied directly to the day-to-day business and educational mission processes across the CHP and in each of the departments/areas of responsibility.
The CHP Executive Council, which consists of department chairs, directors, dean's office staff, and elected members of the faculty and staff, provides oversight for the college's strategic plan. Strategic initiatives are carried out at the college level and at the department/area of responsibility level.
CHP faculty, staff and students are involved in developing and implementing the college's strategic plan. The entire college is kept up-to-date on progress within the department/area of responsibility, in meetings with the dean; in targeted/planned interactions such as chair, coordinator/director, student group meetings; inter-professional, USS staff, and UP personnel lunches with the dean; and in twice yearly All College Meetings.
Bibb says the Strategic Planning process has been instrumental in getting the leadership of the college aligned and moving forward together.
"Great progress has been made in implementing the strategic goals and strategies," Bibb says. "In a recent CHP Leadership Advance (Retreat), after working through identification and discussion of accomplishments, challenges and aspirations, the top CHP priorities identified through synthesis activities were consistent with the goals, strategies, metrics, and targets currently being addressed in the CHP strategic plan.
The biggest challenge for CHP is identifying the people and money resources to support implementation of various initiatives. Strategies for overcoming these challenges have been integrated into the CHP strategic plan and are used to guide priority actions and allocation of resources and efforts at the college and department/area of responsibility level.
Among the CHP strategic planning champions, Bibb listed CHP faculty, staff and students, saying that the entire CHP community is happily engaged in innovation and remaining relevant through progressive, positive change.
---