History and Mission of Fairmount College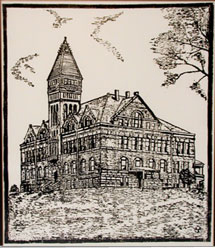 At its inception, Fairmount College played an important role in educating women. In the 19th century, the push for women's access to higher education met with considerable resistance. Mental and moral stress were refuted outcomes of educating women--considered side effects from which they could not cope. Thus began the fight for Fairmount College in 1887.
Initially, Fairmount College was referred to as "Young Ladies' College," "Wichita Ladies College" and "Congregational Female College." Imagined as the "Vassar of the West" and nonsectarian in nature, Fairmount College would admit women twelve years and older who were "able to read, write, spell and recite the parts of speech." Support and motivation for the college came mainly from the Plymouth Congregational Church. Builders sited Fairmount Hall--the main campus building--on an elevation in northeast Wichita, where it stood high enough to allow an overlook of the Arkansas River valley. However, the building stood empty for several years after the Wichita growth boom collapsed in 1888. The college for women never opened its doors.
A corporation bought the property and named the school Fairmount Institute. It opened in September 1892 to men and women, with an emphasis on training its students in preaching or teaching. The curriculum included courses from four fields: scientific, normal, classical and commercial. Sixteen students enrolled the first semester: three faculty and a library collection of six books supported their education. Although spring enrollment climbed to 40 students, Fairmount Institute closed because of financial difficulties.
Fairmount College (for men and women) opened on the same site in 1895, with funding by the Congregational Education Society. In 1926, CES trustees gave it as a gift to the city of Wichita. This act gave rise to the municipal University of Wichita, funded through taxes paid by citizens. In 1964, the University of Wichita became Wichita State University -- an institution governed by the Kansas Board of Regents.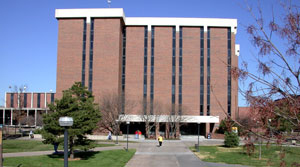 Today, Fairmount College represents the history of the liberal arts and sciences college that was cornerstone to the development of Wichita State University. Seventeen academic departments provide the quality education students expect and deserve.
We strongly encourage you to schedule an on-campus visit through the Admissions Office. Academic advisors are available to help you at the Liberal Arts and Sciences Advising Center or through the department of your major.
Mission
The mission of Fairmount College is to cultivate intellectual curiosity and foster contemplation of the human experience and the natural world. Faculty members are dedicated to creating, expanding, applying and preserving knowledge; and to introducing students to the scholarship, theories, methods and perspectives of their diverse disciplines. A liberal arts and sciences education develops transferable analytical skills--the capacity to gather and interpret information, think critically and communicate effectively--and stimulates a lifelong love of learning that enriches graduates and their communities.
For more information about each of our department's missions, click here.
*Reference: Rydjord, John (1977). A History of Fairmount College. The Regents Press of Kansas: Lawrence.