Off Campus Windows PC: Remote Connection
Windows Off Campus Computer to Apple Work Computer
Contact the Help Desk for assistance, as this requires a special setup: (316) 978-HELP, option 1 or helpdesk@wichita.edu
Windows Off Campus Computer to Windows Work Computer
Access the VPN (See VPN instructions)
Click on the Windows icon in the lower left and type Remote Desktop Connection.
Select Remote Desktop Connection from the Best Match results.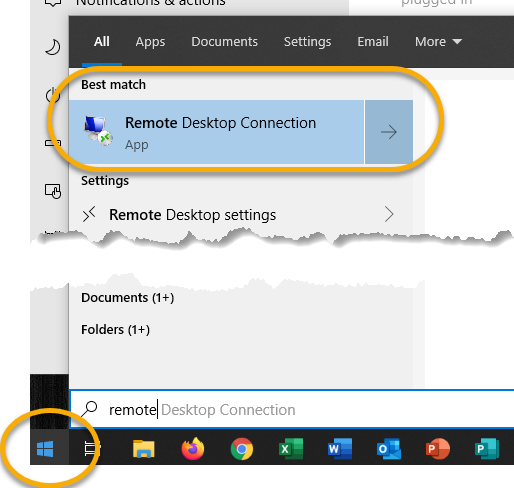 In the popup screen, for Computer, enter in the computer name you collected in the Work Computer Settings step. Click Show Options.



For User Name, enter ad\myWSUID, for example ad\A123Z987. Click Connect.


In the popup screen that appears, enter your myWSU ID password and click OK.


A blue tab will appear at the top of your remote session. To close the session, click on the X in the upper right. Don't forget to close your VPN session (See VPN instructions)