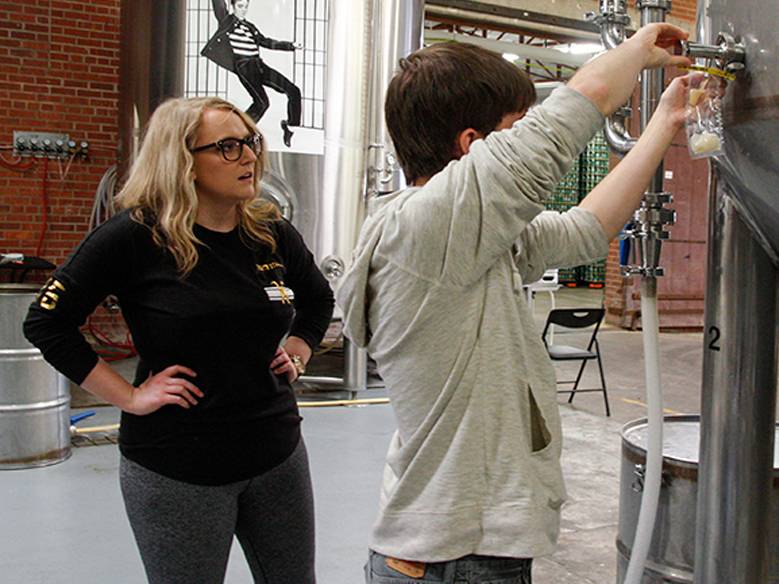 The taste for craft beer has grown monumentally in Wichita with the recent addition of several new breweries. Faculty in Wichita State University's Department of Biological Sciences are finding a way to turn the beer craze into real-world student experience.
It started about a year ago when owners of Wichita Brewing Co. & Pizzeria (WBC) reached out to biology professors David McDonald and Bill Hendry. WBC was preparing to open an 18,000-square-foot production facility in south Wichita and needed an intern on site to test for quality assurance in the brewery's new lab.
Alexandrea Feldkamp, a senior biology student, was chosen for the internship. Her job included preparing cultures in petri plates, testing beer for any contaminating bacteria or yeast, testing for yeast viability and general quality control of beer.
She worked closely with the head brewer to communicate possible contamination issues and trouble-shoot solutions.
This has been an invaluable addition to my resume .
Alexandrea Feldkamp,
Senior biology student
The temporary internship turned into a more longterm one – and Feldkamp says the experience is serving her well as she looks toward graduation and applying to pharmacy school.
"This has been an invaluable addition to my resume," she says. "Many of the same laboratory techniques that I perform on a weekly basis are readily transferrable to the type of lab work that I would be involved with in a pharmacy."
Because of the friendly culture among Wichita brewers, word has gotten out about the valuable addition to WBC's process, McDonald says. Other breweries, including Central Standard Brewing and Aero Plains Brewing, have now hired two WSU student interns to work in their labs.
And based on the continued demand for craft beer, McDonald expects there to be more internship opportunities ahead.
"There are other breweries out there – they just don't realize they need an intern yet," he says.