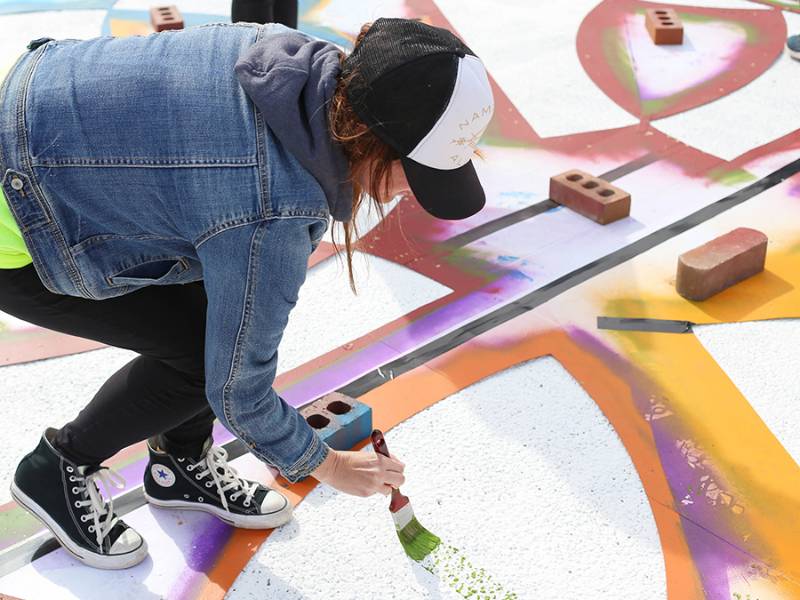 Intro to Community & Social Practice, taught by ShiftSpace Gallery Director Kristin Beal, is designed for students to explore artists and methods of art practice that extend into communities and the "social" realm.
The Douglas Design District's street mural, part of the 2020 Vision initiative, provided the perfect opportunity for students to take what they learn in the classroom and apply it to real life. If you haven't driven down Douglas in a while, you need to check it out.
The mural is based on the Douglas Design District logo and colors, both designed by Gardner Design.
"My class helped the project director, Josh Tripoli, troubleshoot and strategize the process for how to complete the project," says Beal. "Their role onsite was to be lead volunteers and help facilitate the volunteers that came to help without prior knowledge of the project."
Students helped Tripoli in the planning process of how to successfully move the stencils while taking into consideration external elements, as well as made sure the right color was placed according to the design, says Beal.
While the mural is being used as a placeholder for future median flower beds, it has added more color to an already vibrant area.
"Walkable garden districts notoriously increase the quality of life for residents in the area, enhancing character and property values of neighboring buildings," says Beal. "They also slow traffic, which makes for a more walkable and safer area."
To learn more about the 2020 Vision initiative, visit dddwichita.com/2020-vision/. And if you are interested in this class, Intro to Community & Social Practice, registration is open for the fall. It is ARTS 211 and ARTS 211 H in the catalog.