Clayton Staples Gallery
Located on the second floor of McKnight Art Center West, the Clayton Staples Gallery is a dynamic exhibition space for the work of visiting artists, faculty and master's students.
Current Exhibition: One's Own and Others' Otherness
On view October 10-29th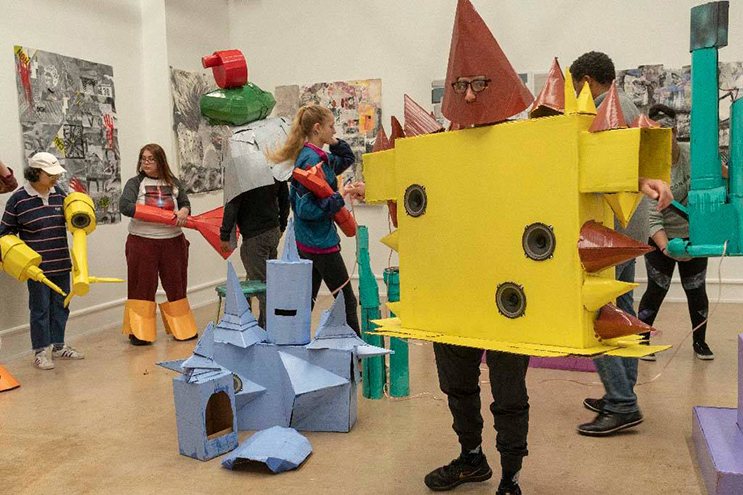 For One's Own and Others' Otherness, WSU School of Art, Design, and Creative Industries professors Kristin Beal and Robert Bubp, along with Visiting Artist/Senior Lecturer Richard Reddaway of Massey University in Wellington, New Zealand, created an exhibition and performance based around themes of intercultural equity and shared experiences with students from Kristin's class, ARTS 211 Intro to Community and Social Practices, and Robert's class, ARTS 347 Mixed Media Drawing. Students designed and enacted a process of engagement, documentation, and representation to explore the possibility of intercultural translation and equity.

Over the course of several weeks, students considered related artworks and actions through lectures and discussions, then included others in the process of making: family, a friend, a classmate, a neighbor. Then students/partners made drawings, sound recordings, and a set of sculptural objects, using simple materials—cardboard, packing tape, paint—augmented with active components: audio speakers, playing recorded sounds and sights of everyday realities and a recognition and celebration of being present in this place. These rather formless things hopefully expose the possibility of being both what we are and other than what we are, allowing us, all of us, a voice.

One's Own and Others' Otherness will be on view through October 29th, 2018.