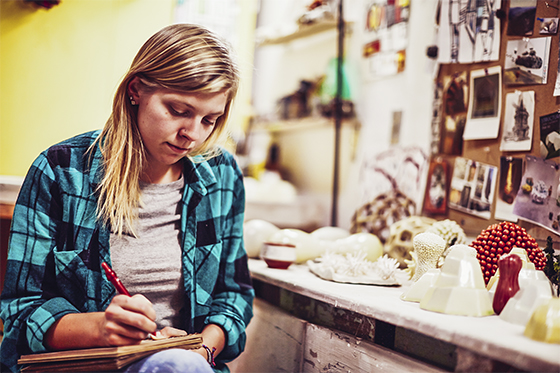 Take your artistic practice to the next level.
The MFA in Studio Art is a three-year program designed for artists who want to expand, question and push contemporary thinking and making into uncharted territories. Students generally choose an area of emphasis, but we encourage an interdisciplinary approach. Our studio-focused program integrates scholarly research, international travel, professional opportunities and community engagement into a bold, forward-thinking curriculum. Access to world-class libraries, internationally recognized faculty and a robust schedule of visiting artists will help fine-tune your artistic voice. Private studio spaces and extensive resources ensure that you'll be ready when the big ideas arrive. Merit-based financial support includes scholarships and graduate teaching assistantships that will help you stay focused in the studio. Bring your passion. Bring your skills. Bring your artistic vision and get the time, support and guidance you need to reach new heights.
Admission Requirements
Admission with full standing requires an undergraduate degree and substantial previous study in studio art or a related field. The minimum cumulative grade point average for undergraduate coursework is 2.75. A minimum of 12 hours of art history are required with a preference of at least 15 hours.
Deadline for Application
Applications are considered on a rolling basis with a priority deadline of February 5. MFA candidates begin their studies in the fall.
Application Procedures
Applicants should submit the following to the Graduate School office via a single application process:
Completed application for admission to the Graduate School. Students can choose to apply online, or submit a paper application. Both are available at: www.wichita.edu/gadmf
Nonrefundable application fee
Official transcripts of all college-level academic coursework completed, either sent directly from the institutions, or issued-to-student transcripts in sealed envelopes
In addition to the application form, applicants will be prompted to submit the following:
A statement of intent (outlining artistic goals, professional objectives, and expectations of graduate study experience) and an artist's statement (outlining artistic philosophy and the nature of work represented in the portfolio)
A CV/resume listing education, academic and art awards and recognition, exhibition and any relevant information
Three original letters of recommendation (recommenders will be listed in the online portal)
A portfolio with 15-20 examples of recent work, labeled with title, description, size, medium and date.
Do not send materials directly to the School of Art, Design and Creative Industries (ADCI). They will be returned unopened.
Questions regarding the application procedures should be directed to the Graduate Coordinator Levente Sulyok at: levente.sulyok@wichita.edu
Degree Requirements
Minimum course requirements for completion of the MFA degree are 60 graduate hours, summarized below. Three quarters of the 60 hours must be composed of 800-level courses.
Courses
23 hrs—Courses in studio art emphasis
12 hrs—Courses in non-emphasis studio art areas
6 hrs—Courses in graduate-level art history
6 hrs—University electives*
2 hrs—ART S 895, Professional Practices in Studio Art: Graduate
1 hr—ART S 790, Graduate Teaching Seminar
10 hrs—Terminal project in the emphasis
* Art or non-art courses 500 level or above. May include ARTH, ARTE, or ARTG courses. May include ARTS 800. Courses must be approved by the faculty advisor.
The terminal project consists of a thesis show proposal; an exhibition of original studio art work; a defense; and a terminal project report that documents the candidate's studio work (images, video), a hard copy list of the work, a written statement and a resume.
Graduate Programs in Studio Art
Each graduate student develops their own plan of study. In order to define a plan of study for the graduate degree, students must submit the plan of study form leading to admission to candidacy for the degree no later than one month following the completion of 24 semester hours of graduate credit.
Assessment Reviews and Examinations
A number of reviews will take place throughout the program to assess student progress. These will include a first-year review, mid-program review, terminal project proposal, terminal project progress review, and terminal project Review. In addition, prior to the public presentation of the terminal project exhibition, the oral examination is conducted.
Transfer of Credit
All graduate credit accepted for transfer will be at the discretion of the departmental adviser and graduate art coordinator. A maximum of 24 semester hours from prior graduate study may be considered for transfer to the MFA program. Final determination of transfer to will be made after the student has successfully completed 12 semester hours at WSU and the first graduate review. A maximum of 12 semester hours can be applied to the emphasis. If a transfer of credit is allowed, it may reduce course requirements but not entrance requirements. A ruling on hours converted to the MFA program by the dean of the graduate school, graduate studio art coordinator, and the emphasis faculty is final. Graduate non-degree work obtained before admission to a planned degree program will not be accepted.
Prerequisite
Students who have not been accepted for MFA degree status may enroll in 800-level courses only with written consent of the instructor of record and the graduate coordinator. At minimum, they must have non-degree Category A status in any graduate area.
Policy on Student Art
ADCI conforms to the College Art Association MFA Standards Guidelines; therefore, retention of student work without compensation is not required.
Facilities
Graduate students have 24-hour access to their studio space and other facilities in Henrion Hall and McKnight Art Center.
Assistantships
Graduate teaching assistantships with ADCI are available to qualified and deserving MFA graduate students at all levels of study. MFA students who are awarded teaching assistantships receive additional financial support from Wichita State University in the form of tuition waivers. A detailed description of the assistantships is available from the graduate art coordinator.
Studio Art Graduate Faculty
Ted Adler | MFA, Ohio University, Ceramics
Barry Badgett | MFA, Syracuse University, Sculpture
Robert Bubp | MFA Georgia State University, Painting
Marco Hernandez | MFA, Kansas State University, Printmaking
Jennifer Ray | MFA, Columbia College Chicago, Photography
Levente Sulyok | MFA, Rhode Island School of Design, Painting
For More Information, contact:
Levente Sulyok, graduate coordinator
School of Art, Design and Creative Industries
Wichita State University
1845 Fairmount Street
Wichita, Kansas 67260-0067
Phone (316) 978-3555 E-mail: levente.sulyok@wichita.edu
To learn more about application, deadlines, financial aid and more, visit the WSU Graduate School.