Dr. Voncella McCleary-Jones, PhD, RN-BC, CNE, ANEF
Associate Dean, College of Health Professions and Chair, School of Nursing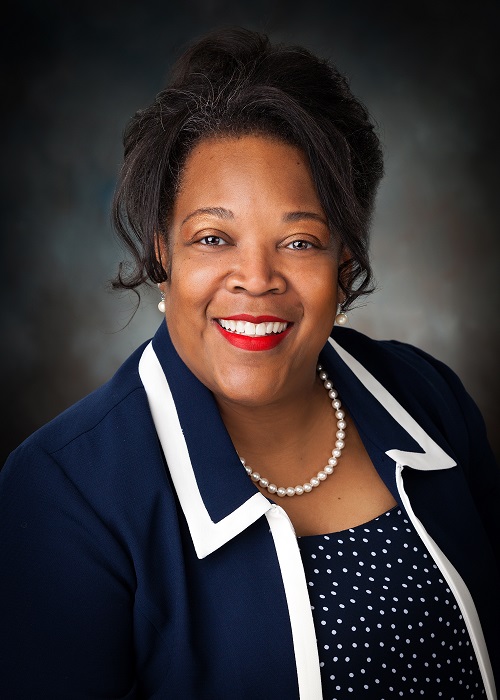 Dr. McCleary-Jones is a native of Fayetteville, North Carolina. Prior to joining Wichita State University, she was a tenured Associate Professor at the Fran and Earl Ziegler College of Nursing at the University of Oklahoma Health Sciences Center in Oklahoma City, Oklahoma. She also served as the Director of the Master's Nurse Education Program for the past eight years, and as Assistant Dean for Educational Excellence, Interim.
Dr. McCleary-Jones holds a master's degree in nursing education, and a Ph.D. in adult and higher education administration. Her clinical specialty areas include adult Intensive Care and Post-Anesthesia Care. She is a Harvard Macy Scholar, holds certification from the National League for Nursing as a Certified Nurse Educator (CNE), and is a Fellow of the NLN's Academy of Nursing Education, a national distinction which recognizes her sustained and significant contributions to nursing education.
Dr. McCleary-Jones cares deeply about sharing knowledge and facilitating the development of future nurses, nurse educators, and researchers. A primary goal for the learners in her courses, be it at the undergraduate or graduate level, is to spark a thirst for knowledge and lifelong learning, as she believes these foci will enable them to best serve those for whom they will provide evidence-based care in a rapidly changing healthcare environment.
"I am excited to join a vibrant community of educators and scholars at Wichita State University, and to be part of such a rich, student-centered learning environment. It is very exciting to see the ways in which interprofessional education has been woven throughout the programs within the College of Health Professions. I look forward to facilitating the delivery of high caliber learning experiences for our students, and capturing the synergy of the faculty and staff's expertise to further interprofessional education and collaboration, and simulated learning experiences within the School of Nursing and the College of Health Professions."