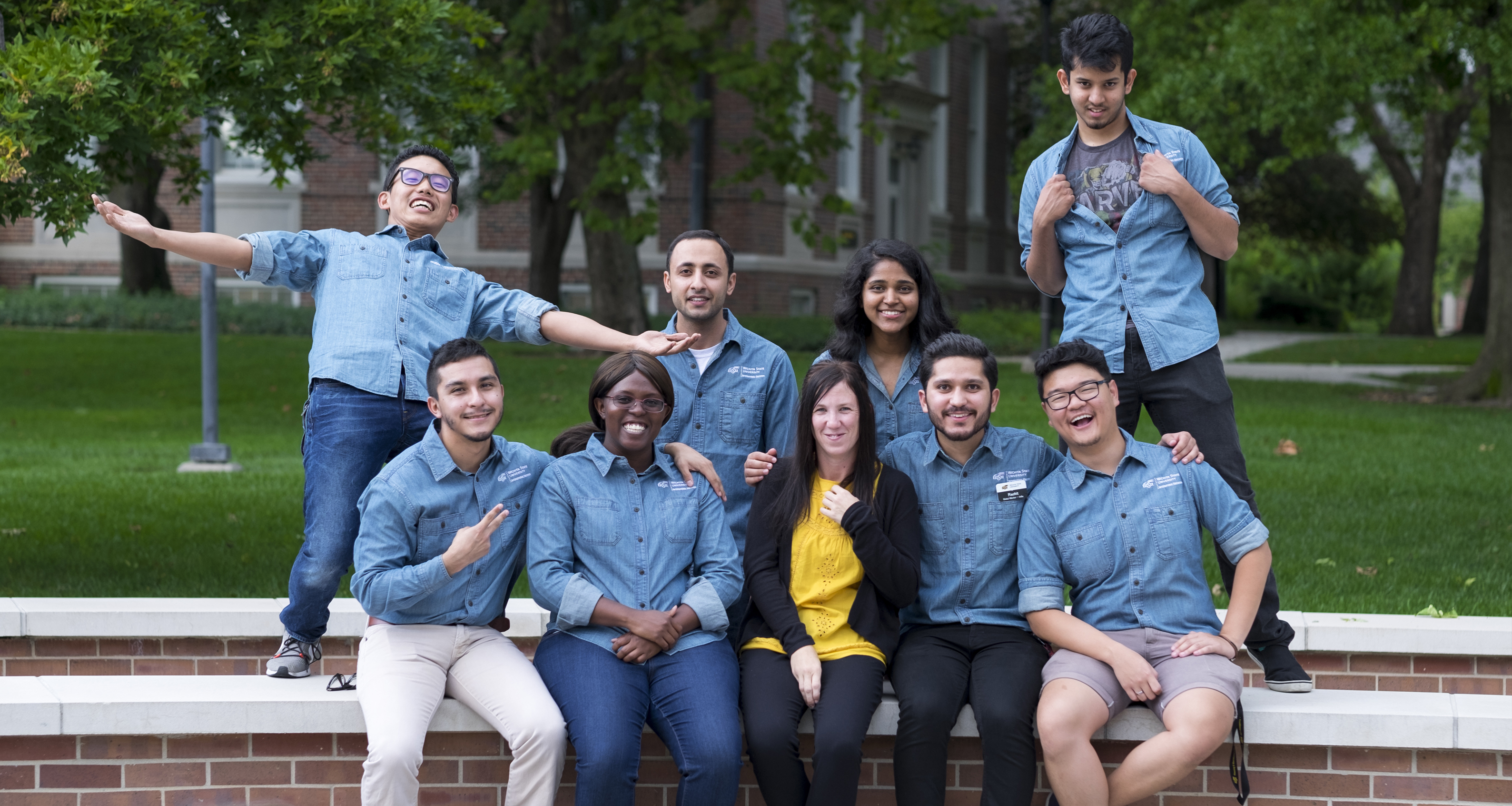 Global Mentors
---
WSU's Global Mentors are an amazing group of students who assist new international students as they adjust to life in Wichita by answering questions, explaining WSU's many resources, and by checking in on them to see how their semester is going. Mentors also help plan activities and take their group members to different events on and off campus.

Follow us to get the latest news: Facebook.com/wsuglobalmentors
Ahmad - Jordan
Ahmad is an international student from Jordan. He is majoring in Electrical Engineering with a minor in Computer Science. Ever since he was a young boy, Ahmad was always passionate about programming and electronics. In his spare time, he likes to go to the Heskett Recreation Center to play squash, which helps keep his focus elevated throughout the semester and it's a great way to stay healthy and fit.

Athira - India
Athira is a junior majoring in Aerospace Engineering. She feels that being an international student in the U.S. is a really great thing as students aren't just learning about the American culture, but they are also exposed to other cultures as well. Athira also likes to play badminton in her free time.

David – United States
David is an International Business major completing his senior year. He really likes to learn about history and spends most of this time on Tumblr.

Rachit - India
Rachit is a senior in Mechanical Engineering. He enjoys traveling, listening to music, watching movies and taking spontaneous road trips. In the future, he wants to fly Emirate Planes over Europe or be working somewhere close to Germany.
Rohith - India
Rohith is a sophomore studying Mechanical Engineering with a minor in Mathematics and Music. He loves to travel and explore new places. Rohith has a passion for piano and loves to learn anything new, like instruments. In the future, he hopes to do something both in the mechanical engineering and the music field.
Sornsakon "Peach" - Thailand
Peach is a sophomore from Thailand majoring in Industrial Engineering. In his free time, he enjoys cooking, baking or anything that he gets to eat afterwards. Peach is also a big fan of Eurovision and he bets on Italy most of the time. Trying new cuisines is something he likes to do and don't be surprised if you find him flying around the world just to try each country's food.
Tenzin - Nepal
Tenzin is a charismatic sophomore majoring in Aerospace Engineering. Some interesting things about Tenzin are that his last name, Sherpa, means "conqueror of the mountains," he dreams of going to Hawaii, his favorite food is momo, he knows how to play the tabla, and he likes swimming and working out.

Thandolwenkosi - Zimbabwe
Thandolwenkosi is from Zimbabwe, which is located in the southern part of Africa. Her major is Biomedical Engineering. She enjoys watching sports such as rugby and cricket. In her free time, Thandolwenkosi likes to sketch, cycle, and is in the process of learning Portuguese. By the time she goes back to Zimbabwe, she would like to have visited all 50 states of America.