Overview:
Wichita State University employees are encouraged to interact with business, industry, public and private foundations, and government agencies to facilitate professional development. They are also encouraged to promote the expansion and application of knowledge gained through research. It is important that these activities are conducted in a manner that avoids or minimizes conflicts of time commitments and conflicts of interest.
Policies and Reporting:
The Kansas Board of Regents (KBOR) and WSU policies require that all University employees (except student employees and graduate students) complete and submit a yearly report of financial interests and time commitments. All University employees must complete a disclosure even if the employee has no involvement in sponsored programs and/or no conflicts of time interest. Additionally, it is the responsibility of the employee to make and file ad hoc reports to disclose any instances of conflict (actual or potential) as soon as they become known, and in any instance, not later than thirty (30) days after discovery or acquisition of the actual or potential conflict of time commitment or interest.
Need to complete your annual report?
We are happy to announce that the reporting process is now automated and available under 'My Training' after signing onto myWSU.
For log on instructions: Annual Conflict of Interest Reporting form
---
Conflict of Interest FAQ
We get it. Conflict of Interest is a topic that comes with questions; the answers to which frequently lead to additional/follow-up questions. Below is a list of the most frequently asked questions.
Q.What is a conflict of interest?
A. "Conflicts of Interest" are those situations that arise when there is a difference between a university employee's private, personal relationships, or interest and his/her professional obligations to the university. One has to ask whether an independent observer might reasonably question whether the individual's professional actions or decisions are determined by considerations of personal benefit, gain or advantage.
Other things to consider are outside financial or managerial interests that could compromise or appear to compromise the fulfillment of professional duties, or the safety and welfare of research volunteers or students.
WSU and KBOR policy wording states, "The appearance of a conflict of interest can be as damaging or detrimental as an actual conflict."
It is strongly recommended that employees submit all potential conflicts; conservative reporting lends itself to greater transparency.
Q. What is a conflict of time?
A. Conflicts of time exist when the majority of an employee's time is spent on an outside project and it exceeds the amount of time spent on university responsibilities, or when primary professional responsibility is not to the university.
Q. Why is filing a conflict of interest report required?
A. The Kansas Board of Regents policy, as well as WSU policy, requires at least an annual report of potential conflicts of interest. Federal regulations also contain conflict of interest provisions that must be met in order for WSU to receive federal funding.
Q. Who is required to file a report?
A. All WSU employees with the exception of student employees and graduate assistants.
Note: If participating in research funded by an agency using the Federal Financial Conflicts of Interest criteria as defined in 42 CFR 50 Subpart F, additional individuals may be required to report. If you are not sure who is funding your project, please contact the Principal Investigator or the Research Office.
Q. I've already submitted a conflict of interest form through Human Resources; do I have to complete this one too?
A. Yes. The Kansas Governmental Ethics Commission administers the Kansas Statement of Substantial Interests reporting. Although there is a duplication in some of the information requested on both forms, they are exclusive of each other, and must be submitted independently.
Q. How do I know what I should report?
A. In today's sound-bite world of social media and 24-7 news reporting, it is often the undisclosed or informal relationships that make headlines. Ask yourself the question,
"Would an outside person look in on this situation and perceive the relationship as having the potential to allow me to derive personal benefit from actions or decisions made in my professional capacity as a WSU employee?"
If you can answer "yes," it is strongly recommended that you disclose the information.
Q. What is an "external activity"?
A. These are activities that are 1) not included within your professional responsibilities to the University; or 2) performed for any entity that is not the University; or 3) is performed in exchange for compensation, including equity interests; and 4) relates to your area of professional expertise.
Q. What are associated entities and which associated entities do I have to report?
A. Associated entities are corporations, partnerships or trusts in which you have holdings. You do not have to report an associated entity if:
The salary, royalties, or other remuneration are received from the University including funds and holdings acquired through the Regents retirement programs;
The income received (e.g., salary, fees, or other continuing payments) is in an amount of $5,000 or less per year from any one business enterprise or entity when aggregated for the employee and members of his/her family;
The financial interest in any one business enterprise or entity if the value of those interests does not exceed a 5% ownership interest when aggregated for the employee and members of his/her family.
Don't see your question? Contact us at compliance@wichita.edu.
---
COI Training:
The Council on Governmental Relations (COGR) published "Recognizing and Managing Personal Financial Conflicts of Interest" as a resource guide for researchers and research universities.
Publication Disclosure Statements:
Public disclosure is a management plan element that serves to protect investigators and WSU against any allegations of malfeasance by identifying and disclosing in an open and transparent way, all potential dual or competing interests that the investigator may have or appear to have in relation to his research. For more information about situations when disclosures should be made and specific language samples, please see "Publication Disclosure Statements for Conflicts of Interest."
To take WSU's online COI training, please visit our CITI Online Training page.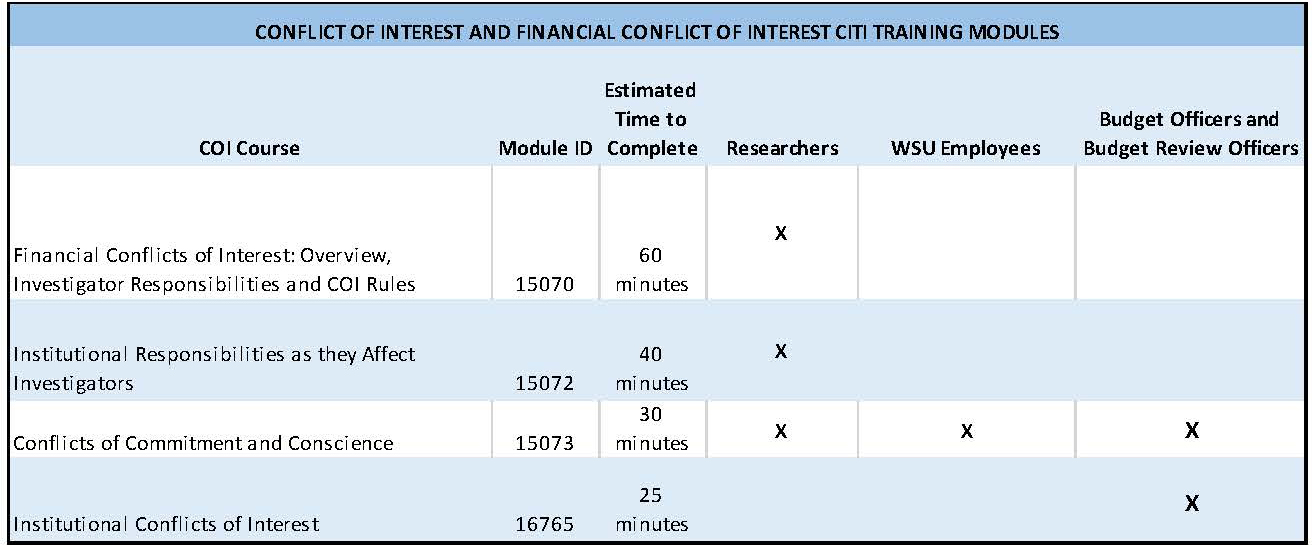 ---
COI Policies:
WSU Policy 3.04 / Commitment of Time, Conflict of Interest, Consulting and Other Employment
WSU Policy 3.16 / Employment of Relatives
WSU Policy 9.22 / Disclosure of Financial Conflicts of Interest for Public Health Service Supported Investigators
Kansas Board of Regents Board Policy Manual
National Institutes of Health Financial Conflict of Interest
National Institutes of Health Research Integrity
National Science Foundation Conflicts of Interest
State of Kansas Governmental Ethics Commission
---
COI in the News: