Overview:
Wichita State University employees are encouraged to interact with business, industry, public and private foundations, and government agencies to facilitate professional development. They are also encouraged to promote the expansion and application of knowledge gained through research. It is important that these activities are conducted in a manner that avoids or minimizes conflicts of time commitments and conflicts of interest.
Policies and Reporting:
The Kansas Board of Regents (KBOR) and WSU policies require that all University employees (except student employees and graduate students) complete and submit a yearly report of financial interests and time commitments. All University employees must complete a disclosure even if the employee has no involvement in sponsored programs and/or no conflicts of time interest. Additionally, it is the responsibility of the employee to make and file ad hoc reports to disclose any instances of conflict (actual or potential) as soon as they become known, and in any instance, not later than thirty (30) days after discovery or acquisition of the actual or potential conflict of time commitment or interest.
Need to complete your annual report?
We are happy to announce that the reporting process is now automated and available under 'My Training' after signing onto myWSU.
---
CONFLICT OF INTEREST - DEFINITIONS
REPORTING - GENERAL
REPORTABLE INTERESTS
REVIEW AND MANAGEMENT
TRAVEL
Don't see your question? Contact us at coi@wichita.edu.
---
COI Training:
The Council on Governmental Relations (COGR) published "Recognizing and Managing Personal Financial Conflicts of Interest" as a resource guide for researchers and research universities.
Publication Disclosure Statements:
Public disclosure is a management plan element that serves to protect investigators and WSU against any allegations of malfeasance by identifying and disclosing in an open and transparent way, all potential dual or competing interests that the investigator may have or appear to have in relation to his research. For more information about situations when disclosures should be made and specific language samples, please see "Publication Disclosure Statements for Conflicts of Interest."
To take WSU's online COI training, please visit our CITI Online Training page.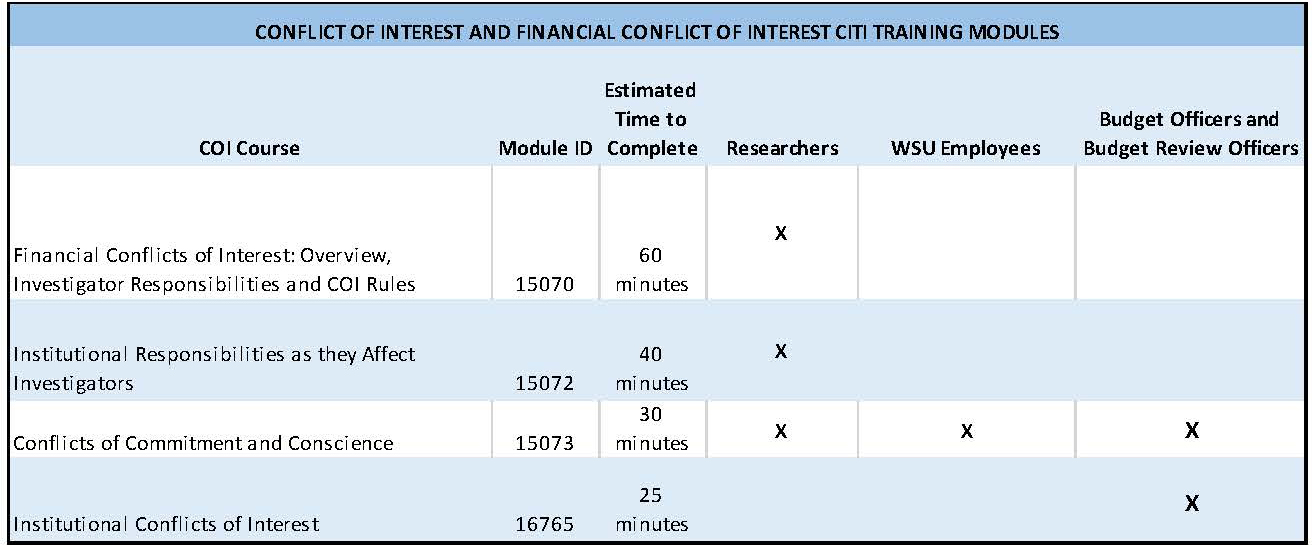 ---
COI Policies:
WSU Policy 3.04 / Commitment of Time, Conflict of Interest, Consulting and Other Employment
WSU Policy 3.16 / Employment of Relatives
WSU Policy 9.22 / Disclosure of Financial Conflicts of Interest for Public Health Service Supported Investigators
Kansas Board of Regents Board Policy Manual
National Institutes of Health Financial Conflict of Interest
National Institutes of Health Research Integrity
National Science Foundation Conflicts of Interest
State of Kansas Governmental Ethics Commission