Overview:
In 2011, the Department of Health and Human Services (DHHS) issued a final rule that amended the Public Health Services (PHS) regulations. The changes required that recipients of PHS funding must follow the requirements detailed in 42 C.F.R., Part 50, Subpart F. Read "The Biotech Death of Jesse Gelsinger" article below for a brief history of the events leading up to passage of this landmark legislation.
A number of agencies and organizations are following PHS's lead and are requiring compliance with PHS regulations. For a current list of those agencies, please visit: Agencies and Organizations Following PHS Regulations.
Policies and Reporting:
WSU Policy 9.22 / Disclosure of Financial Conflicts of Interest for Research Subject to Public Health Service Financial Conflict of Interest Regulations complies with the federal regulations.
In addition to the annual disclosure, PHS regulations require disclosure in the following instances:
Initial proposal
New personnel added
New significant financial interest (within 30 days of discovering or acquiring new SFI)

Per the NIH FAQs, a new SFI is a different type or nature of SFI (e.g., royalty payment versus consulting fees) than what had previously been disclosed from the same source that meets or exceeds the threshold. In addition, a "new" SFI is also considered to be the same type or nature of SFI (e.g., royalty payment) from a different source (e.g., company A versus company B).

Non-competing continuation
Renewal proposal
Supplemental funding
No cost time extension
The following FCOI forms supplement the online annual COI reporting form:
Supplemental PHS Financial Conflict of Interest Disclosure & Certification Form
Supplemental PHS Travel Reporting Form
---
Frequently Asked Questions:
The National Institutes of Health has a comprehensive list of Frequently Asked Questions. We have included some of the most common questions below. To see the complete list, visit Financial Conflict of Interest Frequently Asked Questions
Q. Who is an "Investigator"? Isn't it just the PI on the project?
A. PHS regulations define an "Investigator" as someone who is the project director or principal investigator and any other person, regardless of title or position, who is responsible for the design, conduct, or reporting of research funded by PHS, or proposed for such funding, which may include for example, collaborators or consultants.
Q. What exactly are "Institutional Responsibilities"?
A. "Institutional Responsibilities" include an Investigator's teaching/education, research, outreach, clinical service, and University and public service on behalf of Wichita State University and directly related to those credentials, expertise and achievements upon which the Investigator's WSU campus position is based.
Q. What is a "Significant Financial Interest"?
A. "Significant Financial Interests" are financial interests that reasonably appear to be related to your Institutional Responsibilities. Significant Financial Interests consist of one or more of the following:
Total income or payment of services received over the past 12 months and/or equity interest in a publicly traded entity excede $5,000 when aggregated
Total income or payment of services received over the past 12 months from a non-publicly traded entity exceeding $5,000
Any equity interest in a non-publicly traded entity
Total payments received over the past 12 months for any intellectual property rights and interests (e.g., patent, copyright, assigned or licensed to a party other than the Regents) exceeding $5,000
In addition to yourself, you must report if your spouse/registered domestic partner, and/or dependent children have financial interests that meet the above criteria.
Q. Do I need to disclose the occurrence of any reimbursed or sponsored travel related to my institutional responsibilities?
A. Yes. PHS regulations state, "the regulation requires Investigators to disclose the occurrence of any reimbursed or sponsored travel (i.e., that which is paid on behalf of the Investigator and not reimbursed to the Investigator so that the exact monetary value may not be readily available) related to the Investigator's institutional responsibilities. The disclosure requirement also applies to the Investigator's spouse and dependent children. However, the disclosure requirement does not apply to travel that is reimbursed or sponsored by the following:
a federal, state, or local government agency,
an Institution of higher education as defined at 20 U.S.C. 1001(a),
an academic teaching hospital,
a medical center, or
a research institute that is affiliated with an Institution of higher education.
---
FCOI Training:
The WSU requirement that all employees involved in sponsored research complete conflict of interest training every four years follows the training requirements set out in the PHS regulations.
Prior to receiving disbursement of funds from an agency that follows the PHS regulations, the training for PHS Investigators must be completed (see chart below). We recommend that when you submit a proposal to an agency that follows PHS regulations, you go ahead and take the required training. This will be one less thing to do in the rush of activity surrounding a grant setup!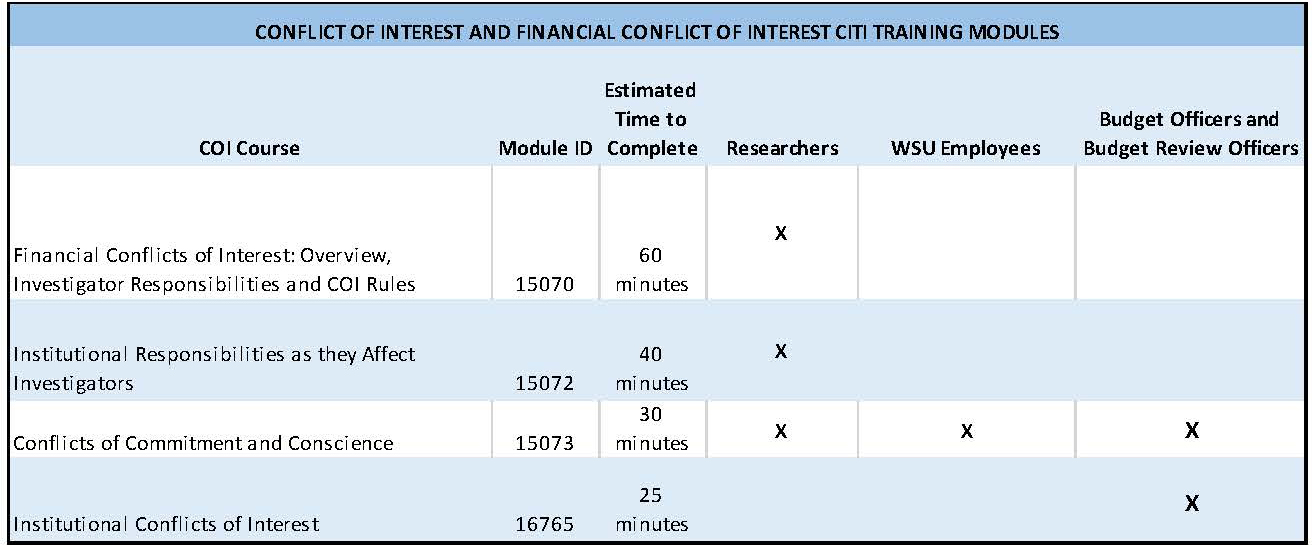 Note for Unaffiliated Researchers: Non-WSU researchers employed by a subrecipient institution without its own FCOI policy and consultants should complete the "External Investigator Conflict of Interest Disclosure and Certification Form".
The Council on Governmental Relations (COGR) published "Recognizing and Managing Personal Financial Conflicts of Interest" as a resource guide for researchers and research universities. This is a good resource to supplement the CITI training.
---
Public Accessibility:
Public accessibility to information concerning any Significant Financial Interest (SFI) is written into the PHS regulations at 42 CFR Part 50.605 (a) (5). The information must meet the following three criteria:
the SFI was disclosed and is held by a senior/key personnel on the research project;
WSU has determined that the SFI is related to PHS-funded research; and
WSU has determined that the SFI creates a Financial Conflict of Interest (FCOI).
Public accessibility requests must be in writing, include the name of the senior/key personnel and the title of the PHS funded research project. Requests will be processed and made available to the requestor within 5 calendar days of receipt. The response will include information required to be disclosed per the regulations.
In accordance with the regulations, the public may make a written request to WSU via email at compliance@wichita.edu or to FCOI Public Accessibility Request, 1845 Fairmount Campus Box 115, Wichita, KS 67260-0115.
---
COI and FCOI Policies:
WSU Policy 3.04 / Commitment of Time, Conflict of Interest, Consulting and Other Employment
WSU Policy 3.16 / Employment of Relatives
WSU Policy 9.22 / Disclosure of Financial Conflicts of Interest for Public Health Service Supported Investigators
Kansas Board of Regents Board Policy Manual
National Institutes of Health Financial Conflict of Interest
National Institutes of Health Research Integrity
National Science Foundation Conflicts of Interest
State of Kansas Governmental Ethics Commission
---
COI in the News: