Teams: Getting Started
Video, Audio, and Screen Sharing
How to Create Team (only for Faculty and Staff)
Introduction
Teams is an amazing collaborative tool. This quick guide is intended to help you get started on your journey with this powerful tool, and is by no means an exhaustive resource. Stay tuned for training sessions coming soon.

Download Teams
If Teams is not currently on your computer, you can download it from Office 365.
Log in to Office 365
Log in to myWSU
In the upper right, select Office365

You may be prompted to log in again. Pay attention to any instructions on the screen. You may need to log in using:
Username: your myWSU@wichita.edu (e.g. A123Z987@wichita.edu)
Your myWSU ID password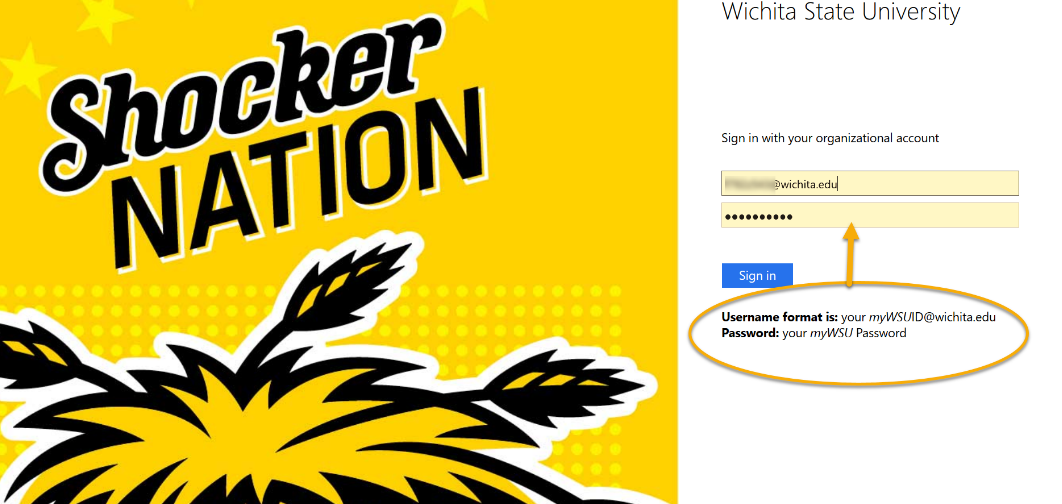 Navigate to Teams
Click on the waffle (grid) in the upper right and select Teams from the dropdown menu.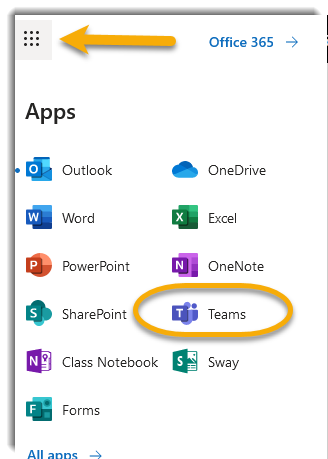 This will take you to the online Teams application, which is an excellent tool! However, if you would like the desktop application, see below for how to download.
Download the Application
In the lower left, click on the square icon in the lower left to begin the download.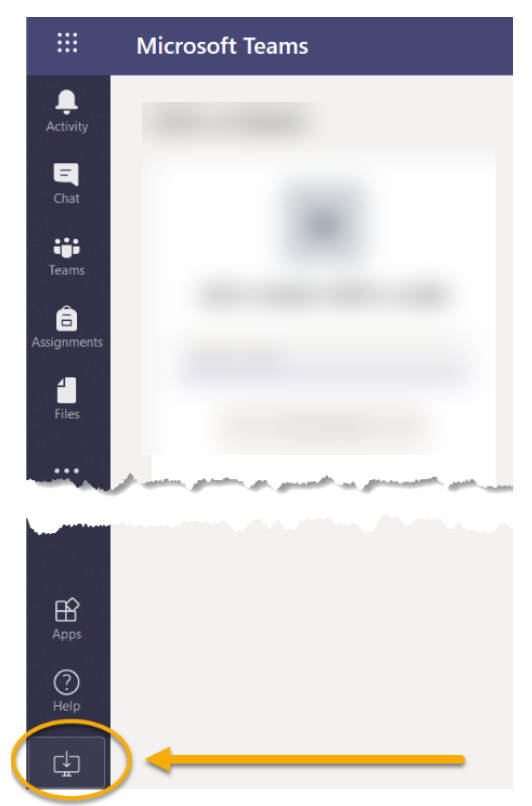 Launch Teams
The first time you launch the newly-downloaded Teams app, you will be prompted to log in.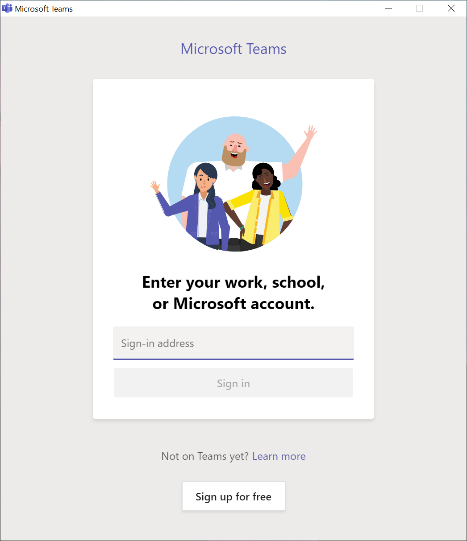 Log in using the same credentials as you did with the Microsoft 365 site:
Password: Your existing myWSU password
You may be prompted to log in one more time and/or authenticate with Duo.
Navigation
On the left side of the Teams screen is some basic navigation.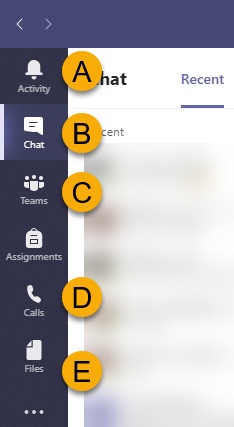 A. Activity: this will light up with a notification if you have received a message, file, or call.
B. Chat: Select this to begin a chat
C. Teams: This feature may not be enabled for your account yet at WSU. Stay tuned for more information about this feature.
D. Calls: Place an audio or video call
E. Files: Access files in your OneDrive. Not familiar with OneDrive? Here is a brief introduction.
Chat
Select Chat from the navigation.
To begin a new chat. click on the pencil icon at the top of the screen.

In the To: line, search for your recipient(s). Your chat can contain one person, or several.
Chat Navigation

The chat view navigation contains:
A. Recent Chat Connections appear on the left side of the screen.
B. Chat appears on the right side of the screen.
C. Message can be typed at the bottom of the screen.
In addition to typing a message, note there are a handful of buttons to add some variety to your chats.
Chat Tools
There are a variety of chat tools, but take note of a few for now:

A. Attach files to send to a recipient: you may also drag and drop a file into the chat.
B. Insert an Emoji, or
C. Insert a GIF
Chat Retention Policy

The table below outlines the Teams chat retention policy at Wichita State:
| | | |
| --- | --- | --- |
| Function | Timeframe | Description |
| Person to person chat | 30 Days | Ad hoc general chats between two or more parties, not connected to a Teams site. Conversations over the retention time will be silently dropped |
| Teams Chat | 365 Day | Chats that are inside of a team sites with two or more people. Conversations over the retention time will be silently dropped. |
| Team Site Expiration | 90 Days | A team is a group of people with shared chat and file sharing. This would be the amount of time without any activity on the site. The owner will receive notification emails prior to deletion |
| Recover Team Sites Timeouts | 30 Days | The time from when a team's site is deleted, where it can be safely recovered |
| Video Calls | Not Saved | Recordings from video calls, unless configured a per call basis |
| Voice Calls | Not Saved | Recordings from voice calls, unless configured a per call basis |
Files
At the top of the chat screen are some additional tabs. When you send files to a recipient, all files can be found on the Files tab.
Note: these files are stored in your OneDrive.
Video, Audio, Screen Sharing
In the upper right of the chat screen are three buttons. With these you can do a few things with your chat partner (s): create a video call, audio call , or screen share.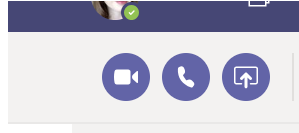 This is one way you can create a video meeting: simply create a chat with the attendees and press the video button.
Notes:
If your computer does not have a camera or microphone, some of these options may be grayed out.
Meetings
In addition to creating Meetings via the Chat screen, you may also set up a meeting in advance with the Outlook plugin that is installed with Teams. Note: If you do not see this plug in, contact the Help Desk at (316) 978 4357.
1.In Outlook, select the Calendar module.

2. In the Home tab, New group, select New Meeting.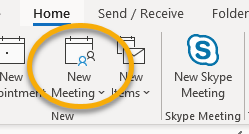 3. Depending on your version of Office, you may have a button that reads "To" or "Required". Click on this button, and search for your attendee(s).
4. Complete the rest of your meeting with title, information, time, etc.
5. In the ribbon of your invitation, press the Teams button.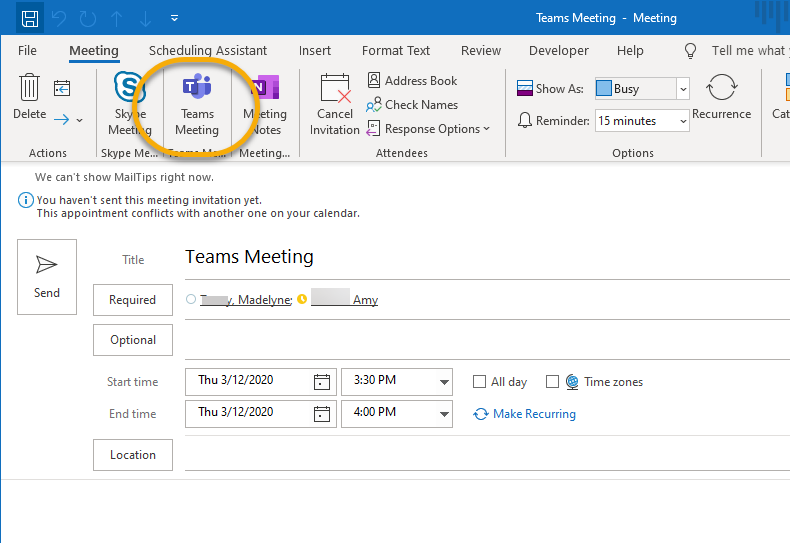 6. This will create a link to the Teams meeting in the body of your message, and replaces the location with Teams.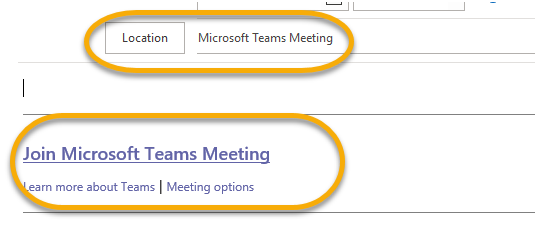 7. When it is time for your meeting, each attendee can click on the link to join the meeting, including the organizer.
Meeting Options
When you are setting up your meeting, there is a link for Meeting Options.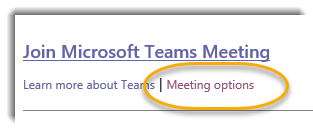 Click on this link to access more meeting options.
Note: if you are prompted to log in again, use the log in instructions for username and password that you used to log in to Office 365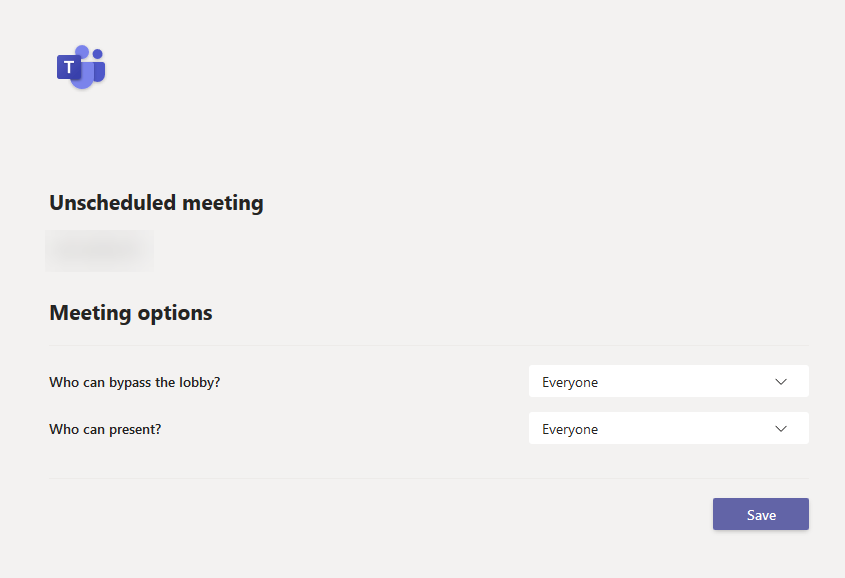 In this screen is the ability to control who can bypass the lobby, where guests would wait until you approve them to enter the meeting...

...and who can present:

Availability Status
Your status will be tied to your availability in Outlook. However, if you would like to change your status you can do so by clicking on your initials or picture in the upper right:
Status Message
In this same place you can also set a status message. This message will appear when people try to message you.
Are you ready to do more?