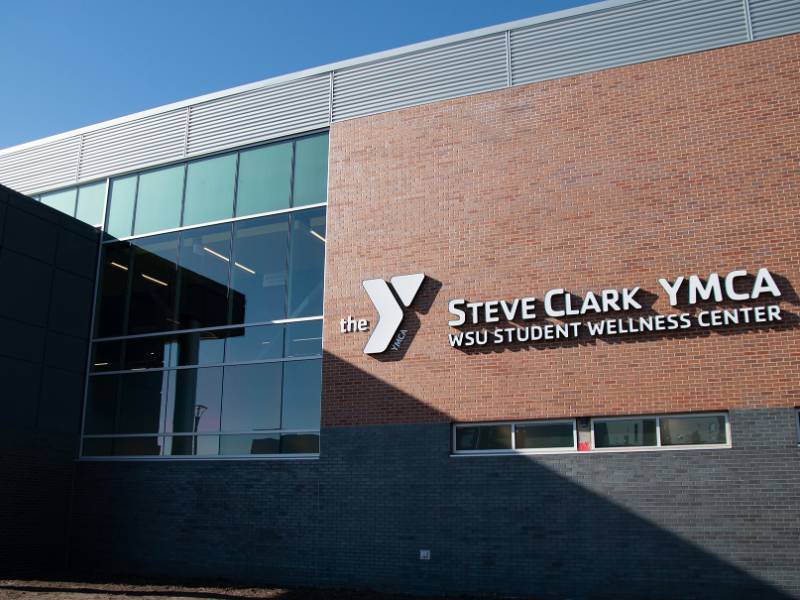 Steve Clark YMCA and Student Wellness Center now open

The Steve Clark YMCA and WSU Student Wellness Center are now open at the corner of Mike Oatman Drive and Mid Campus Drive.
The YMCA building houses Student Health Services and Student Counseling and Prevention Services, a full-service YMCA and, still to come, Kid Zone, Kid Zone Plus (exclusively for children of WSU students) and a Wesley Urgent Care Center.
All fee-paying students are automatically members of the YMCA and all of the other YMCA locations in the Wichita area.
Faculty and staff receive a discount to become members of the WSU YMCA, and anyone in the community is welcome to become a member, as well. Read our Frequently Asked Questions for more details.
Any student, faculty, staff or community member who is actively using the YMCA facility, utilizing the child watch, Student Health and Wellness Center or the Wesley Urgent Care, will be able to park in the YMCA lot for up to two hours at a time.
---
Background on the Student Wellness Center and YMCA
In 2020, a new comprehensive Student Wellness Center will open as part of the Steve Clark YMCA.
Among the many benefits for students are:
Greatly expanded physical and mental health services, located in one facility.
WSU students receive a membership to the new WSU facility as well as full access to all nine full-service YMCAs located in Sedgwick, Butler and Harvey counties.
Access to drop-in daycare through the YMCA. WSU's Childhood Development Center will continue to operate its traditional childcare services.
The YMCA project is a private building on public land, with the YMCA having complete responsibility for the development and construction of the project.
The university did not participate in the selection or award of any of the contractors building the YMCA facility. The state's procurement laws, which require competitive bids in certain situations, do not apply in this situation because no state funds are being used.

The YMCA's development and construction costs for the facility is estimated to be $16 million. The WSU Board of Trustees has committed $5 million to this project as part of its support for Innovation Campus. This money is/will be paid in installments in fiscal years 2019, 2020 and 2021.

WSU Student Health Services, which is currently located in Ahlberg Hall, will relocate to a newly built Student Wellness Center inside the YMCA facility. Counseling and Prevention Services will be relocated from Grace Wilkie Hall to the new Wellness Center. These student support services will occupy a total of approximately 5,000 square feet more in their new home than in their current facilities. Students will greatly benefit from having all wellness services in one location.
Student fees pay for:
No student fees were used by WSU to construct the building itself. The annual student fees paid to the Y, subject to inflationary increases, will cover operating and use costs.
The WSU Board of Trustees has agreed to donate $5 million to the project as part of its support of Innovation Campus. The university, through the Wichita State Innovation Alliance, is leasing the land to the YMCA for 50 years.
For more information, see the YMCA FAQs
New urgent care center
In August 2018, the YMCA announced a partnership with Wesley Healthcare to build a new urgent care center inside the campus YMCA.
The urgent care center is expected to open in early 2020 and will provide extended weekday and weekend hours to serve students, faculty, staff, residents in surrounding communities, and employees of WSU's partner companies.
History behind the name
During his service, Steve Clark has both chaired the Board of Directors during a critical phase of growth and helped raise millions of dollars to expand the Y's mission. He co-chaired the recent record-breaking fundraising effort to bring a YMCA to WSU. Clark also led the Y's second largest fundraising effort with the Every Kid Campaign in 2010-2012. This effort made the current Downtown YMCA and Farha Sport Center-Indoor Fields possible, as well as, expansions for the original Farha Sport Center-Indoor Courts, YMCA Camp Hyde, and both the South and Northwest YMCAs.
"The YMCA in Wichita would look very different without the efforts of Steve Clark. It is with great pride we add his name to one of our locations and recognize his years of hard work for the Y," noted YMCA chairman David Shannon.
In addition to his service with the YMCA, Clark has been instrumental in a variety of efforts at Wichita State, including endowments for multiple scholarships and programs, as well as chairing key boards, councils and committees.
---
The information on this page is accurate as of Feb. 7, 2020. Comment on this topic.